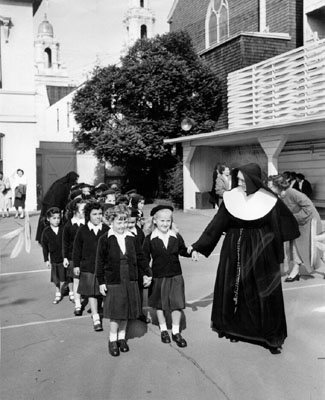 I thought I was being a little tongue in cheek when I wrote that the bishops were probably spending time on issuing self excommunication guidelines for those of us who voted for Obama, also known as the 'party of death.' Maybe it wasn't a joke:
COLUMBIA, S.C.
— A South Carolina Roman Catholic priest has told his parishioners that they should refrain from receiving Holy Communion if they voted for Barack Obama because the Democratic president-elect supports abortion,
and supporting him "constitutes material cooperation with intrinsic evil."
( I surely hope our true believers can separate the man Obama, from the notion of intrinsic evil. I'm not sure that's going to be easy to do given the McCain campaign's purposeful attempt to confuse Obama with every other form of evil.)

The Rev. Jay Scott Newman said in a letter distributed Sunday to parishioners at St. Mary's Catholic Church in Greenville that they are putting their souls at risk if they take Holy Communion before doing penance for their vote.

"Our nation has chosen for its chief executive the most radical pro-abortion politician ever to serve in the United States Senate or to run for president," Newman wrote, referring to Obama by his full name, including his middle name of Hussein. (Do I detect an attempt to reinforce the notion that Barack Obama, the man, is evil?)

"Voting for a pro-abortion politician when a plausible pro-life alternative exists constitutes material cooperation with intrinsic evil, and those Catholics who do so place themselves outside of the full communion of Christ's Church and under the judgment of divine law. Persons in this condition should not receive Holy Communion until and unless they are reconciled to God in the Sacrament of Penance, lest they eat and drink their own condemnation."
(There we are! Self excommunication! The winds of Baltimore are howling in South Carolina. Oh, wait a minute. Isn't this the same state which is about to have a senate runoff race? Will voting for Saxby Chambliss keep one on the good side of Jesus?)
"It was not an attempt to make a partisan point," Newman said in a telephone interview Thursday. "In fact, in this election, for the sake of argument,
if the Republican candidate had been pro-abortion,
and the Democratic candidate had been pro-life, everything that I wrote would have been exactly the same."
(Fr Newman, if you were going to be truly consistent and non partisan, you should have sent Republican voters to the sin bin as well. After all, McCain is a supporter of another 'intrinsic' evil, stem cell research. Non partisan consistency would require you to condemn all Catholic Americans who voted for either major party because both parties supported some form of intrinsic evil. Not to mention that some of us think the methods used by Republicans in the campaign bordered on intrinsically evil.)
****************************************************************
That nasty cynical part of me, which I can only control by slamming my head on my desk, thinks this sermon might just be another electioneering attempt by a Roman Catholic cleric. Saxby Chambliss, that paragon of Republican class, is in a runoff race for his senate seat. Losing it would give the 'party of death' one more seat in their march to that filibuster proof number of 60 seats.
McCain was in South Carolina yesterday, campaigning for Saxby Chambliss. Saxby makes a lot of senators cringe, given the tactics he used to defeat Max Cleland in 2002. In fact, McCain had this to say about those tactics:
"I'd never seen anything like that ad. Putting pictures of Saddam Hussein and Osama bin Laden next to the picture of a man who left three limbs on the battlefield -- it's worse than disgraceful. It's reprehensible."
Correction:
McCain used to think it was reprehensible to call into question the patriotism of a man who lost three limbs on a battle field in Viet Nam. Six years later he seems to think backing the same reprehensible senator is OK.
I guess I know why I now find McCain's integrity quotient hovering slightly above zero.
The truth is, that's about where I find the integrity quotient of our bishops and priests like Fr. Newman. When one party is defined as the 'party of death' and the other the 'party of life' over one issue, the repeal of one law, this is blatant partisanship, and it's beyond myopic.
I honestly never expected to see the day in the United States, where my church would send me to hell for voting my conscience. That this threat is even uttered, this threat of hell, is very indicative of the level at which our teaching authority is functioning. They are 'teaching' to the education level of 5th graders, just as if they are the authority figures on some big playground attached to some mythical parochial school. This isn't surprising given that most of them probably did learn their attitudes toward Catholicism in parochial schools with authoritarian figures in religious clothing ruling the playgrounds. But the Church isn't a playground and it's laity are no longer in 5th grade. It's time for a reality check. Past time.