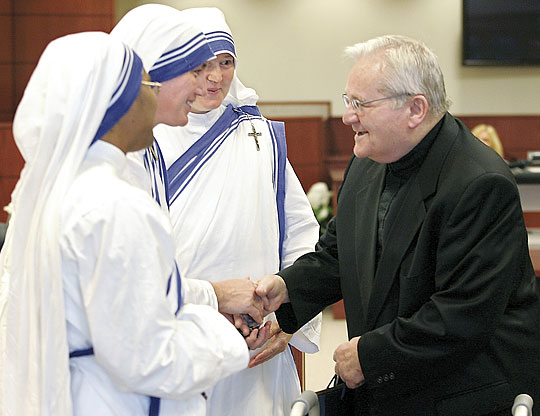 Fr Donald McGuire with a few of Mother Theresa's nuns. One wonders why these ladies never wondered about the constant presence of McGuire's very young 'traveling companions'.
Two big stories today about two different Catholic priests. The first story I read was from the NY Times about Jesuit Donald J McGuire and the second an NCR article about Maryknoll Roy Bourgeois. They are instructive about the things the hierarchical arm of the Church considers to be of ultimate importance when it comes to the priesthood and priestly behavior.
The following is an edited version of the NCR story and it's followed by a short excerpt from the Times story.
Maryknoll Fr. Roy Bourgeois, the longtime peace activist and founder of SOA Watch, has received a letter from his order giving him 15 days to "publicly recant" his support of women's ordination or face dismissal from Maryknoll.
The letter, which is dated March 18, is signed by Maryknoll Fr. Edward Dougherty, the order's superior general, and warns Bourgeois that his dismissal will also be forwarded to the Vatican's Congregation for the Doctrine of Faith "with a request for laicization."
NCR
received the letter in a fax from Bourgeois this morning.
Bourgeois, who attended and preached a homily at the ordination of Roman Catholic Womanpriest Janice Sevre-Duszunska in August, 2008, was notified by the same congregation shortly after that event that he had incurred a
Latae Senteniae
, or automatic, excommunication for his participation....
.......Speaking to
NCR
this morning, Bourgeois, who has been a member of Maryknoll for 44 years and a priest for 38, said that while the letter bought about "great sadness," he does not plan to recant his support....
....."Fr. Roy is the founder of School of the Americas Watch and he will be a part of the movement and he will be involved in the movement even if Maryknoll is going to follow through with this," said Henrick Voss, SOA Watch's national organizer......
.......With four days to respond to the letter from the order he's served most of his adult life, Bourgeois, who was born in 1938, said the pushback he's experienced from his support of women's ordination has given him a "real understanding" of "what it means to be a priest."
"I believe if we really take our faith seriously on these issues of justice and peace, there's going to be consequences," said Bourgeois. "I must say I'm just seeing now…that maybe I'm finally becoming a faithful priest. I finally really understand what this man Jesus was talking about when he said it's not going to be easy."
************************************
So Fr Roy was excommunicated right pronto after attending a women's ordination ceremony and it's taken a little over two years for the Maryknollers to toss him out and have him laicized. This is after all the work he has done in the last thirty years or so to shut down the School of the Americas. Next we have the NY Times story about the Jesuits and serial pedophile Fr. Donald McGuire. McGuire gained his fame as a charismatic globe trotting spiritual retreat leader of the very conservative bent, most noted for his two decades of work with Mother Theresa and her order. It only took the Jesuits 40+ years to get around to tossing out McGuire and getting him laicized----and that was only after the Feds had put him in prison for interstate sexual trafficking with minors.
Jesuit leaders in Chicago largely ignored or kept secret numerous reports,
spanning four decades
, that a prominent priest was sexually abusing teenage boys, lawyers for victims charged on Monday in a motion for punitive damages in a Chicago court.....
......The former priest, Donald J. McGuire, now 80, was convicted on several counts of sex abuse in state and federal courts in 2006 and 2008, and is serving a 25-year federal sentence.
The newly public documents date from the early 1960s, when a concerned Austrian priest, in imperfect English, first observed in a letter to Chicago Jesuits that Father McGuire, newly ordained and studying in Europe, had "much relations with several boys." The reports extend into the last decade, when Father McGuire reportedly ignored admonitions to stop traveling with young assistants, molesting one as late as 2003, as law enforcement was closing in. The legal motion argues that Father McGuire's superiors in Chicago turned "a blind eye to his criminal actions."....
Terence McKiernan, president of
BishopAccountability.org
, a victim advocacy group that has long monitored the church's response to sexual abuse charges, said that the series of warnings given to Jesuit leaders by parents and fellow priests was unusually long and clear.
"I have never seen such detailed and frequent notice received by the priest's superiors, so many 'directives' regarding the priest's future behavior, and so much evidence presented to his superiors that those directives were being violated, without the priest being removed from ministry," Mr. McKiernan said.
His group has posted a
history of the case and many of the key documents
.
**************************************
I understand there's a difference in the eyes of the Church between doctrinal heresy and moral sin, but the juxtaposition of these two stories demonstrates just how skewed this view of clerical reality is in the current climate. Fr. Roy Bourgeois made the mistake of disagreeing with a doctrine he felt demonstrates injustice and unwarranted gender discrimination with in the Church. But for Fr. Roy, women's ordination is just in keeping with the main theme of his priesthood. He has spent the vast majority of his soon to be ended clerical career working for issues of social justice and civil rights. He has frequently found himself facing possible prison. The story of the damage the graduates of this school have done to South American Catholic leadership is well documented. Fr Roy is a true Catholic hero to a lot of Catholics who care about more than the salvation of their own pathetic souls.
Fr Don McGuire is a priest of a different persuasion for a different kind of Catholic mindset.
Extensive Jesuit records chronicle a man who purposely targeted conservative Catholic families in order to get access to their sons. These families would trust this spiritual confidant of Mother Theresa to the point they allowed their young teen age sons to travel the world with him while he ministered to Mother Theresa's flock. At the same time this conservative hero is using the Sacrament of Confession to coerce these young boys to minister to his perverted sexual needs. This is a pattern which is getting so predictable it's sickening.
As for the Chicago Jesuits, it's pretty easy to see they chose to value their own reputation and McGuire's high level contacts with the conservative branch of the Church over virtually any concern for McGuire's victims.
And no, I am not letting Maryknoll leadership off the hook, but they seem to be acquiescing to Vatican pressure, and no such pressure was placed on the Jesuits in McGuire's case.
When I look at the connections between JPII and Maciel, and Mother Theresa and Fr McGuire, I see some things I don't like. Is there a fundamental narcissism in conservative Catholicism which blinds otherwise good people to the perverted narcissism in the religious figures they trust and admire? Is the emphasis on saving one's personal soul a sort of spiritual cancer which enables self serving predators to function with impunity?
I frequently read true believers slam progressives for their selfish need to follow their own consciences and essentially worship themselves in their definitions of Catholicism and God. Maybe that's got some truth to it, but progressive Catholicism doesn't seem to have near the same kind of track record conservative Catholicism has for exalting sacrament abusing narcissistic sexual predators. There's got to be a message there.