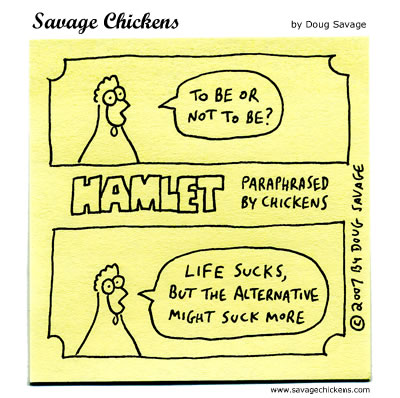 That is ultimately the decision we all come to terms with-or maybe just avoid. I happen to think we choose and make real what is our ultimate decision. For me the ultimate does not suck. It actually can be made manifest in this all too often sucky reality.
The following is taken from Clerical Whispers. It brings up some important questions. I've been thinking about some of these questions for a long time. I suspect a lot of priests and run of the mill lay Catholics have as well. Ultimately the real questions, as our teachers present them to us, seem to revolve around the idea of Magic Church and Magic Jesus, or real life experiences with real life questions. The most meaningful answer is all about our own path, and not about absolute tangible consensus answers. I wish it was different, but it's not.
A friend has pointed me to an
article
by Lynne Kelleher in the Irish Independent, which was taken up by an American blogger calling himself
The Deacon's Bench
.
The article quote
d Archbishop Diarmuid Martin of Dublin as suggesting that Ireland's lapsed Catholics should have the maturity to leave the Church.
In an obvious reference to "cultural Catholics" who want to be married in a church and have their children baptised for purely social reasons, the archbishop is alleged to have said:
"It requires maturity on those people who want their children to become members of the Church community and maturity on those people who say 'I don't believe in God. I really shouldn't be hanging on to the vestiges of faith when I don't really believe in it.'"
He was followed by Fr Michael Drumm from the Catholic Schools Partnership who said that the Church in Ireland would be firmer in future with parents wanting to have their children baptised as Catholics.
The blog led to some interesting comments in the posts that followed: a fellow US Catholic deacon stated that "in a few cases I've refused to marry a couple or baptise an infant until the adults involved demonstrated that their faith would be meaningful and practised".
Yet another deacon related that he was asked by his parish priest to baptise the baby of a non-churchgoing, unmarried mother and also give her instruction – and that she did come to Mass sometimes afterwards.
Generally the responses were evenly divided between those who agreed (cautiously) with Archbishop Martin and who felt that if it were known that the family did not intend to raise their child as a Catholic, baptism should be delayed until their attitude had changed; and those who felt this attitude lacked compassion: lost or wavering sheep should be welcomed and supported, not shunned. (Inevitably, a few posts said the Irish Church was in no position to preach to anyone, given her recent history etc).
I am never sure which way to jump in this debate – and priestly responses vary.
One priest I know always baptises on request with no questions asked, believing he should give non-practising parents the benefit of the doubt; yet another used to firmly insist on attendance at sessions of instruction beforehand, as a way of showing parental commitment.
I also recall an elderly priest, on the occasion of a First Communion family jamboree, telling me with sadness that he did not expect to see the parents or child again in the church – and he was proved right.
If I were a priest I would want to point out that baptism shouldn't be done just to please the grandparents; that First Communion is more than an occasion to buy an expensive dress for family photographs; and that a church wedding shouldn't be requested in order to have a tasteful backdrop.
But what if this puts off the enquirers from coming to church again?
Is mercy rather than justice required here?
****************************************
I first want to apologize for not posting for awhile. Life has it's ups and downs and I was trying to determine if I was in an up or down. I think ultimately for me it's an up, but for others it may be a down. That kind of thing is always in the hearts of the beholder. It's the same thing with this article. I don't think it's a matter of mercy or justice, it's a matter of belief or knowing. If the priest believes and knows what he is doing in Baptism or Marriage makes a real difference, he will follow through with the Sacrament. If one doesn't believe, then it doesn't matter.
But what if belief matters? What if one's belief is all the difference in the world? What if the more we believe the more things change? I sometimes think that the fear of the right wing is more believable than the hope of the non right.
I would say left wing but that's not true. The left is not moving on hope, but reacting against fear.
It seems to me we can let fear rule, or we can move beyond fear. To do that is to give up the ego. It's to stop worrying about survival and trust we do survive beyond our material self. Jesus was all about going beyond survival and for two thousand years we've done our best to prove He was wrong. He wasn't and we are . It ultimately doesn't matter what any priest decides. It only matters how people live the experience. That has zero to do with control and everything to do with faith. Unfortunately the Roman Catholic Church had decided control is more important than faith and that's really sad.
More than that it spells the end of it's existence.