After this weeks riots in the Middle East and the death of our Libyan ambassador, I have to say I think the Dalai Lama is on target. It's time the world looked past religion, with all it's tribalism, and reach for a secular ethics we can all agree on. From Huffington Post:
Dalai Lama Tells His Facebook Friends That 'Religion Is No Longer Adequate'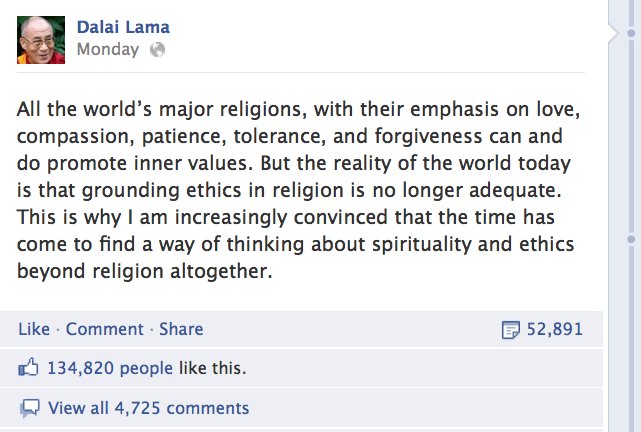 The Tibetan religious leader was quoting from a book he published last year, entitled "
Beyond Religion: Ethics for a Whole World
," in which he argues that religion by itself may no longer provide a satisfactory solution to the ills of the world.
"Any religion-based answer to the problem of our neglect of inner values can never be universal, and so will be inadequate. What we need today is an
approach to ethics which makes no recourse to religion
and can be equally acceptable to those with faith and those without: a secular ethics," he wrote.
In a review of the Dalai Lama's work, however, the
Los Angeles Times
notes the 77-year-old Buddhist monk was by no means "denouncing faith," but rather highlighting the need for a universally shared ethos that is rooted in compassion and is relevant in this modern age:
A metaphor the Dalai Lama likes to use goes like this: The difference between ethics and religion is like the difference between water and tea. Ethics without religious content is water, a critical requirement for health and survival. Ethics grounded in religion is tea, a nutritious and aromatic blend of water, tea leaves, spices, sugar and, in Tibet, a pinch of salt. "But however the tea is prepared, the primary ingredient is always water," he says. "While we can live without tea, we can't live without water. Likewise, we are born free of religion, but we are not born free of the need for compassion."
Awarded the Nobel Peace Prize in 1989, the Dalai Lama has long been a vocal advocate for compassion, religious tolerance and the need to
bring together science and spirituality
in the face of modern suffering.
In his 2005 book, "
The Universe in a Single Atom: The Convergence of Science and Spirituality,
" he wrote:
The great benefit of science is that it can contribute tremendously to the alleviation of suffering at the physical level, but it is only through the cultivation of the qualities of the human heart and the transformation of our attitudes that we can begin to address and overcome our mental suffering... We need both, since the alleviation of suffering must take place at both the physical and the psychological levels.
For his dedication to science (particularly neuroscience) and its positive application in the world (both physically and spiritually), the Dalai Lama was awarded the Templeton prize this year.
******************************************
I really wish Catholic leadership would take a few notes from some of the Dalai Lama's talks. Catholicism can't keep insisting on 'Catholic Identity' as opposed to living a compassionate Christian life, especially in a world torn by sectarian beliefs. What the world really needs is less self identity and more identification with the rest of the planet as we are all in this mess together. I have to give Pope Benedict great credit for staying out of the sectarian issues in Lebanon and focusing precisely on this issue of seeing similarities and not differences. In addition he stressed the need for Christians of all denominations to put aside their own issues and be a source of peace and compassion in an area that sorely needs it. Now if only he could integrate recent scientific, or for that matter even older scientific knowledge, with Catholic doctrine.
In other news from the Middle East, Jayden Cameron (Gay Mystic) has a link to a very disturbing report from the blog Boiling Frogs. The article details the US CIA's involvement in promoting the very Islamic militant fundamentalists now causing such havoc in the Middle East over the movie Innocence of Muslims. The more information I read about this movie and it's producers, the more I can readily believe this is a false flag operation promoted by the Intelligence agencies of the US and Israel and is aimed at fostering enough outrage in the First World to authorize another preemptive war on Iran. That's the whole trouble with religious fundamentalism. It's various adherents can be led but not reasoned with and so we are looking at another precarious time in which big things could very well be afoot, precipitated and planned by the worst kind of folks the first world has to offer.
This is certainly one of those times when the prayers of all peace loving people are sorely needed. This kind of consciousness can only be changed by prayer, compassion, and meaningful acts of resistance. I can easily believe Benjamin Netanyahu will authorize a preemptive Israeli strike on Iran, and do it for two reasons, first because he has always wanted to, and secondly because it would have serious effects on President Obama's re election campaign. Old energy will not go down easily and unfortunately, we may be right on the brink of another stupid self serving war.