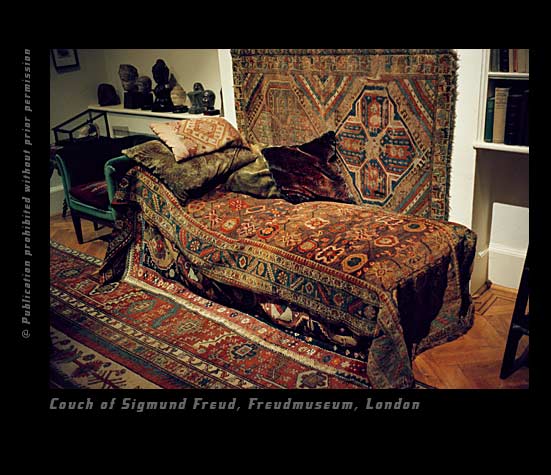 Someone in Nebraska could use some time on this couch

Conscience protections sought for Nebraska psychologists
Lincoln, Neb., Jun 17, 2009 / 04:11 am (
CNA
).-
Responding to concerns that psychologists might be required to counsel homosexual couples about strengthening their relationship, Catholic leaders in Nebraska are asking for conscience protections for psychologists who refuse to treat or refer clients because of religious or moral convictions. Speaking during a licensing rules hearing before the Board of Mental Health Practice, Nebraska Catholic Conference executive director Jim Cunningham proposed a "convictions of conscience" rule for psychologists. The Lincoln Journal Star reports that he warned that Catholic Charities in Omaha and Catholic Social Services in Lincoln might have to stop hiring licensed counselors and psychologists if they are not protected by the law. The Lincoln agency provides about $100,000 in free mental health services.
While most ethics codes for professional counselors and psychologists permit refusing to offer services based on ethical convictions, the codes generally require the professional to provide a referral for the client.
Cunningham said that even referrals could be a violation of conscience.
Edward Stringham, a Lincoln psychologist, said that the lack of a moral exemption could require a psychologist who believes homosexual relationships are immoral to counsel homosexual couples on improving their relationship.
According to the Journal Star, Stringham pointed to a 2001 federal court case which supported an employer who fired a counselor who refused on moral grounds to provide relationship enhancement counseling to a lesbian.
This is cause for legitimate concerns, Stringham said.
James K. Cole, who represented the Nebraska Psychology Association at the hearing, said that conscience exemptions could allow any provider to discriminate against virtually everyone as long as they claim a conflicting moral or religious belief.
The conscience clause is already part of a proposed rule change for counselors. Its compromise language was worked out between the Nebraska Catholic Conference and the Board of Mental Health Practice this winter.
The Nebraska Catholic Conference has also argued for conscience protections for social workers and marriage and family therapists.
******************************************************
The people of Nebraska are not happy with this situation. Every single comment posted to the JournalStar was opposed to this move by the Catholic Church in Nebraska. One should never forget that it's Bishop Fabian Bruskewitz who leads the Lincoln diocese and that this diocese is the only American diocese which has refused to comply with the USCCB National Guidelines and research into the sexual abuse scandal. Apparently Bishop Bruskewitz feels compliance with the National Guidelines violates his conscience.
Every therapist has clients they can't work with for one reason or another. This is precisely why the ethics standards demand referrals. To not refer violates the concept of 'do no harm'. But there is also another issue at play here, and that's the one of billing for services.
Catholic Charities and Catholic Social Services employ licensed therapists in order to bill the State and Federal government for services. If they are going to take tax payer money for counseling services they need to provide services without discriminating or they must refer to other counselors. If they don't choose to comply with accepted professional ethics, then they should not get to bill. It's really that simple. It's this licensing thing and the billing rights that come with it which is why Catholic social service providers do not use unlicensed lay and religious counselors. No license, no tax money.
In my opinion this stance is hypocritical to the max. It's an attempt to coerce the State of Nebraska into paying them for upholding their religious views. It blatantly steps across the line of separation between Church and State. What's next, therapists who refuse to treat Catholics on the moral grounds that Church moral theology is inherently abusive and to do so would be to enable the abuse? That's no joke, as I've had referrals from therapists who could not deal with female clients who refused to look at divorce as an option in an abusive relationship---for them or their children.
There is a more fundamental conscience choice. If you are morally repulsed by the choices people make in a secular society then don't become a therapist. Second to that you can hang out your own shingle and deal strictly with a client population for which you morally approve. A state license infers that a therapist will provide some sort of non judgmental help. At it's minimum it implies a professional mandate to refer a client to someone who can help.
I can not begin to cite the number of classes I took in which the primary focus was on developing a non judgmental attitude in counseling sessions. A wise professor told all us aspiring wannabe's that if we found ourselves in a situation which punched our buttons we needed to immediately refer and then reflect long and hard on which button got pushed. We needed to do that because the operative issue in the session did not belong to the client, it belonged to us.
It looks to me like somebody in Lincoln Nebraska has a major unresolved issue with homosexuality and assumes he can use his position to conflate his issue to a state issue. In the process he's impugning the professional integrity of every Catholic counselor or therapist and I for one am not a happy camper.