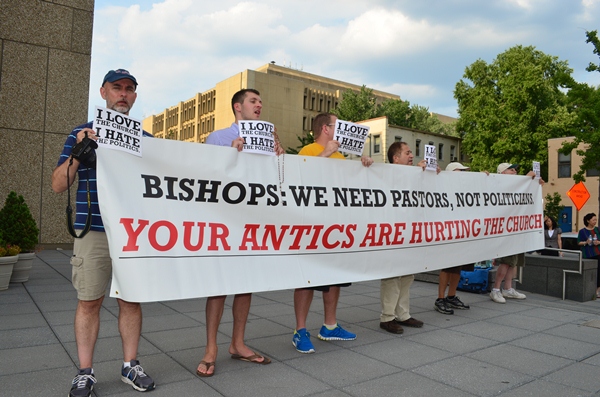 I take some real hope in that more and more Catholics are beginning to see the truth of the above banner.
One frequent commeter on the National Catholic Reporter I really really appreciate is AileenUSA. I have taken the liberty of posting her entire response to the NCR article on the speech Archbishop Chaput gave at the recently concluded meeting of the Catholic Press Association. Aileen simply nails my own thinking about the Fortnight for Freedom nonsense:
Submitted by AileenUSA (not verified) on Jun. 21, 2012.
This RCC teaparty tempest is so disingenuous. Chaput makes a mockery of those who
really have
experienced religious persecution around the world — those who have had their homes, churches, synagogues and mosques bombed — those who have been imprisoned or executed along with their families. No one is bothering Catholics in the U.S. or their individual private practice of their religion. But Catholics are NOT allowed to establish their religious beliefs as some sort of gold standard for everyone else. Chaput's prelate 'id' is showing big time.
.
1) The Catholic Church receives billions of dollars in taxpayer subsidies for its various businesses (hospitals, universities, charities) without which they could not afford to keep their doors open, but the Church doesn't want to play by the same rules that apply to everyone else at the government trough. Playing by the same rules is not persecution. It's fair. You take Caesar's money, you play by Caesar's rules. The RCC yearly haul of government funds has been greater under Obama than under Bush!
.
2) It's astonishing that Archbishop 'free market' Chaput wants to quibble over how contracts are awarded. Really? Exactly
why
should the RCC get special treatment to do as it pleases in making up its own rules for contract awards? You want the contract, then you comply with the rules of the entity awarding the contract. If you want to make up your own special rules, then cough up your own cash.
Chaput's definition of RC freedom is actually RC exceptionalism.
(Bingo!)
.
3) The First Amendment guarantees an
individual's
freedom to
practice
their own religion
in their own lives
(if they believe contraception or sterilization are wrong, then don't use that insurance benefit in your own life — that's
your
freedom).
But it prohibits any establishment of a particular religion that impinges on another individual's freedom of religion
(RC freedom doesn't extend to financial coercion of employee compensation or insurance restriction of someone else's religious freedom of choice whether or not to use contraception or sterilization). One person's freedom of religion stops where another person's freedom of religion begins. The RCC has used its government subsidized businesses to
establish
its own brand of religion and capital-T truth in the lives of anyone it employs or with whom it does business — its massive regional footprint of hospitals being 'exhibit A'. Those who live within those massive regional healthcare systems (little Vatican colonies)
are being forced to live in a healthcare theocracy under the control of a Catholic bishop.
If anything, the RCC has been given way too much latitude in this venue, and should have its theocratic endeavors and monopolies curtailed.
.
It was Chaput himself who dismissed JFK's speech on separation of church and state. He believes that the RCC
should
be controlling government officials and government itself. His pleas of religious freedom and this entire Fortnight/insurrection nonsense is partisan and theocratic to its core.
It's as bizarre as Santorum recently complaining that Egyptians had elected a Muslim version of himself.
http://www.religiondispatches.org/dispatches/haroonmoghul/6091/santorum_...
...
.
Also see: Most of Obama's "Controversial" Birth Control Rule Was Law During Bush Years
http://m.motherjones.com/politics/2012/02/controversial-obama-birth-cont...
*************************************************
The one good thing about this Fortnight for Freedom is it seems to be nothing more than a little tempest in the Tea Party tea pot. If all the opening ceremonies could draw was 2000 people, with a significant percentage of those falling in the category of 'mandatory attendees', then I'm not sure the weeks of pulpit and media pounding provided the desired results. Which is, at least as far as I'm concerned, a somewhat hopeful result.
It may mean that rank and file Catholics are not following in lockstep without using their own God given brains, or that for once, a squeaky wheel is not being listened to, but allowed to go flat on it's own grating rhetoric.
What the USCCB really needs to be careful of is that their chutzpa is going to backfire on them and more and more people, both Catholics and non Catholics, will start asking questions like Aileen points out in the above. Questions such as why Catholic hospitals are allowed to function as health care theocracies under the control of a bishop. Or questions about why employees are expected to sign their rights away as employees just because they draw a paycheck from a Catholic institution--and in most cases Catholic institutions which take government money. Or why some dioceses are getting away with demanding loyalty oaths of all their employees such as is the case in Bishop Vasa's Diocese of Santa Rosa, CA. America Magazine has a thought provoking essay by John Coleman SJ about this whole concept of loyalty oaths. In Vasa's case his oath is truly remarkable in it's language and the totality of what it covers. Here is a snippet on abortion:
"I do not recognize the legitimacy of anyone's claim to a moral right to form their own conscience on this matter. I am not pro-choice. I further attest that I am not affiliated with, nor supportive of any organization which supports, encourages, provides or otherwise endorses abortion or euthanasia."
That language is...is...well, it's over the top. Who takes an oath that denies another person's legitimate right to form their own conscience on the matter of abortion or euthanasia? This sentence is obviously intended to undercut the position of any pro choice politician and enhance Vasa's campaign to deny them communion. It also asks Catholics swear to deny a core teaching of Vatican II on the supremacy of personal conscience. And then who knows for sure whether or not they are affiliated with an organization which supports, encourages, provides or otherwise endorses abortion or euthanasia?
Even the USCCB would have failed this one and according that failed USCCB, even the Girl Scouts don't pass muster.
Bishop Vasa is a very good example of what the forces who actually control the Vatican intend for US Catholics. He is demanding Catholics exchange a form of Catholic fascism for their rights as American citizens. The USCCB is pursuing the same path with their Fortnight for Freedom by defining themselves and their institutional conscience as somehow transcendant over, or the exception to, commonly accepted lines of demarcation between Church and State in the US. It's really just unimaginable hubris and utterly demeaning to the faith of many Catholics.
Unfortunately it's also a clear and present danger to American democracy for in reality the Vasa's of the Catholic bishops and the Carl Anderson's of the moneyed Catholic world are asking American Catholics to put Vatican prerogatives ahead of their duties as American citizens.
I don't really believe this has anything to do with religious freedom or abortion or contraception or sterilization. I think it's just another avenue being used by really wealthy people to make sure they stay really wealthy people. If it means keeping some of our Catholic bishops living really wealthy life styles than that's a small price to pay for their purported influence with 65 million American voters. I don't think 2000 faithful adherents is what these bishop backers had in mind.
In fact I think the real effect of the Fortnight for Freedom is swinging the other way, and that's a good thing for our democracy, if a not so good thing for a Catholic theocracy
.